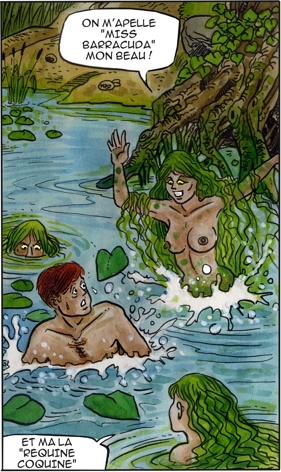 Well, I know I havent written here since a pretty long time. I must say that I am pretty much in a race to keep up with the publishing pace of "Empire of Darkness". In order to be always at least 8 pages ahead, I have to finish 2 pages in a week. that's much, the more that I have other work to be done, too.
So this entry is more of a "I'm still alive, Folks" call.
We are all well, so far. Flecki has recovered entirely. He does a lot of nonsense as usual and jumps around, playing with the other cats. I am very reliefed. It is amazing how quick he got over this serious disease.
Thank you all for your comments. Stephan, there are actually a lot of printed books in German available. For the Kennedy-Comics, go look
here.
But you might also be interested in the
Doudou Books,
since they have a "military touch". But keep in mind that the Doudou Books
can
be offending, since Germans are portrayed as "animals" there. It is not an anti-German comic. It is more a fable about ethnics and how French people saw Germans.
If you (or anyone else) want one or two of those books - just e-mail me. Paypal is fine. But don't feel obligated. I should mention that from all these books, only 2 are in full colour: Doudou 7 and "Francis Moore"
Besides of that, yes, I am still prefering printed books, too. The web is fine to introduce a series to new audience, but when it comes to a real reading pleasure, in my eyes, nothing beats a good book on paper. So I did myself a favor and ordered the printed book of
UNA-Frontiers
at
lulu.
UNA Frontiers is one of my top-favorite Webcomics. But the reading of the book is ten time the pleasure. A real thick graphic novel to get lost in for hours - days in it. The kind of good stuff I adore.