Yesterday, I started the work on a new JFK Book in German, the first one that will be an illustrated book, instead of a comic. I am very excited about it and I will tell about its progress here, just as I do with the Film.
The working title is "Europareise". (Journey to Europe) I don't know if it will be the definitive title, but we have to call the project somehow. The story will be about a very turbulent journey of JFK and some of his spouses (Jackie, Theo and, for the first time, Anastasia) trough Europe and the Island of Etruria.
I am still not yet used to the new medium and so the whole thing is also an experiment. It will have more illustrations than a normal written book. No lead-desert there!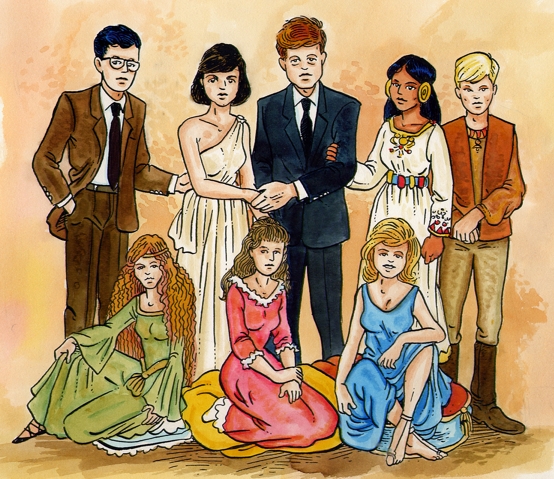 What's for sure, is that it is in no way less work, even if I don't have to draw so much as in a regular comic. The text takes more care and time instead.
Where I am still hesitating is from whose sight the story should be told. I feel that the classical non-personal storytelling "
he did this, she said that and then happened this
" may not suit. Therefore I thought about telling the whole thing from the view of an involved spouse. I think, it is a possibility to drag the reader more into the whole atmosphere. In the other hand, the telling person should be more an observing instance and not one to whom happens the most. Let's see. Nothing is decided yet.