I'm back from the Comic Fair of Arlon, Belgium. It was as usual, meaning the best of it was the time before the event itself, with its sweet illusion that it will be great this time. And then of course, it wasn't, and ended with a car-drama.
I drove away 04:30 AM Saturday Morning, in order to be in Arlon at 08:00 AM.
In Epinal, I noticed the white smoke coming out from the cars rear end, but I thought - or better, hoped - that it was the cold air causing the normal exhaust gases being particularly visible.
The ride to Arlon went well, I found the way without a problem. I discharged my items in the festival hall and then checked in at the hotel and after that, I returned to the hall.
I couldn't wear the Shirt I bought especially for that occasion, because it was so fucking cold. Even my Jacket was not warm enough. My Market Stall Neighbor borrowed me his heavy leather jacket so I would not die frozen. Well, that was it, for showing up my thin figure ;-)
There were very few people. And those who came just passed me by, as if I wasn't there. Even the well known artists didn't had much visitors. They had some of course, a lot more than me, but no comparison to the fairs I knew when every halfway known artist was surrounded by big crowds as soon as he sat down.
Most people came for the merchants who sold old Comic Albums for 2 or 3 Euros a piece, stored in plastic Boxes. It was mostly a flea-market for Books, not a *real* Comic Festival.
I sold 3 Lune des Loups, 2 DVD and one JFK Graphic Album that day. I hoped that things would be better on Sunday.
Sunday started with a lady who bought the DVD, the Lune des Loups and a Childerns Books done by my mom. She asked me if I had some books in German and I showed her some Doudou Books I carried with me, too.
"
Oh no
" she said,"
too much images, they overwhelm me
". Since she seemed to represent what I think being my "target audience" (cultivated woman from 25 upward) I took the opportunity to investigate further: "
Did you buy the Lune des Loups book because it isn't a real comic?
" I asked. "
Well
" she said "
When opening the book, it was comfortable for the eyes, I immediately could dive into it, whereas I cannot find an anchor point in Comics, especially when they're so much detailed and filled with fine strokes as these".
I think it's a question whether you grew up with this sort of comics or not.
As I guessed since a couple of time now, my potential target audience isn't used to read highly detailed comics and will feel much more comfortable with illustrated books.
The average Comic Reader is the 40+ male who either looks for gross humor or realism with a heavy accent on erotic - male's understanding of erotic, of course.
It's probably no coincidence that the new female shooting star in comics , Beatrice Tillier, does Comics that could very much have been done by a man when it comes to the erotic perspective, especially in her "Bois des Vierges" series.: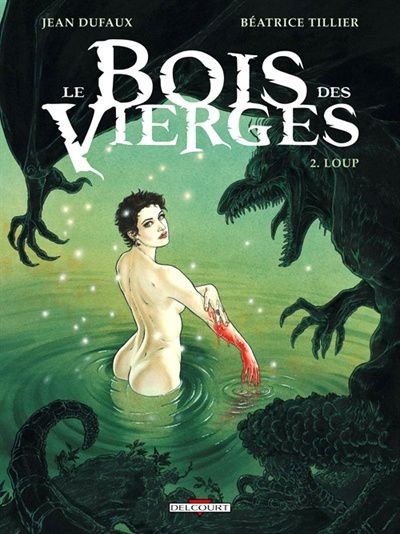 I don't say this with any negative understanding. I wish *I* was able to do erotic that appeals to males.
I am not, even my nude female figures are probably too much from the female perspective I can't leave.
This said, I think what this Festival gave me in the first, was a statement of account of where I am, where I should go and what I should abandon. And as for the financial side, since I had received this subsidy from Vosges State and around 70 Euros of selling income, I am at least slightly in the winning zone.
Back to the car:
Sunday morning I took advatage of the morning light to have a look under the hood of my vehicle. Water recipient was empty. Well, I had filled it up before I drove away from home. I refilled it and then moved the car to the festival hall, so I could charge the car in the evening, after the show. In the 100 Meters from the Hotel to the Hall, I was surrounded by another cloud of white smoke coming out from the rear, a cloud so big and thick It took away my front sight (!)
I stopped the car at the road side, had another look under the hood and - water recipient was empty again. a small pillar of smoke came out of it, like in a cheap cartoon.
There I knew that the problem of loosing water I had since months now has gotten worse. Yes, I DID have talked to the mechanic about this problem. He downplayed it every time. I took the empty plastic bottles and Jerrycans, filled them with water. I planned to refill the recipient every 20 Minutes on the way home.
I went back to the fair. An hour later The organisation said that those who parked at the roadside should move their vehicle, for it was not permitted to park there and police could show up. I went out, moved the car to a parking not far away. I was immediately wrapped by an even bigger white cloud. Another look under the hood : - empty, flat. This car would not take me home in the evening.
I knew I had to call the help service of my insurance, but I wanted to spend at least a couple of hours at the fair, before the whole painful machinery started. Unfortunately, there was no increasing of visitors. So at 15:00 PM I decided to start the call. An hour later, Belgian roadside assistance picked up my car and I had to pack my items from the stall in a hurry - and this was the time when suddenly a lot of visitors came.
The hall was crowed like never before - and I had to leave. Typical "luck" of mine.
The Insurance said that they will look if there was a train for me that can bring me home. "
Well, go on looking
" I thought, knowing very well that there was none.
Heck - I explored the possibility weeks ago for I would have preferred to travel by train as for some obscure reason, I have a car failure almost every time I attend a comic fair, especially in the Benelux states.There is only ONE possible train a day and it would have required me to travel to Arlon on Friday and travel back on Monday - meaning two more nights at the hotel, 100 Euros more to spend making it impossible that this fair could be other than a heavy financial loss.
Now I was this foolish to challenge the universe by taking the decision to travel by car on Saturday morning, passing one night at the hotel and then driving back home on Sunday evening / night, keeping expenses as low as possible and therefore opening the tiny possibility that, with one or two copies of my work sold, I would even make a little gain. Foolish, as I said.
It took one hour for the insurance guy to find out that there was no train that evening and to finally give green light for a taxi to bring me home.
Now here I am at home, my car still being in Belgium. Insurance agrees to carry it behind the frontier to the next French town, this being Thionville.
I called my mechanic this morning telling him that the problem "
that is none
" has evolved into a big pile of shit. He said "
Do not worry, we will go pick up the car in Thionville and I will loan you a replacement car
."
Now I just need to know Name and adress of the french carrier that will take the car from Arlon to Thionville. Insurance said they wil call me. They didn't until now. Will have to remind them their promise.
Comic Festival in Arlon - it was the usual Diana Kennedy fate.